The NINTH Annual LIVE2LEAD:Harrisonburg Experience with Dove Development & Consulting!
Sep 10, 2023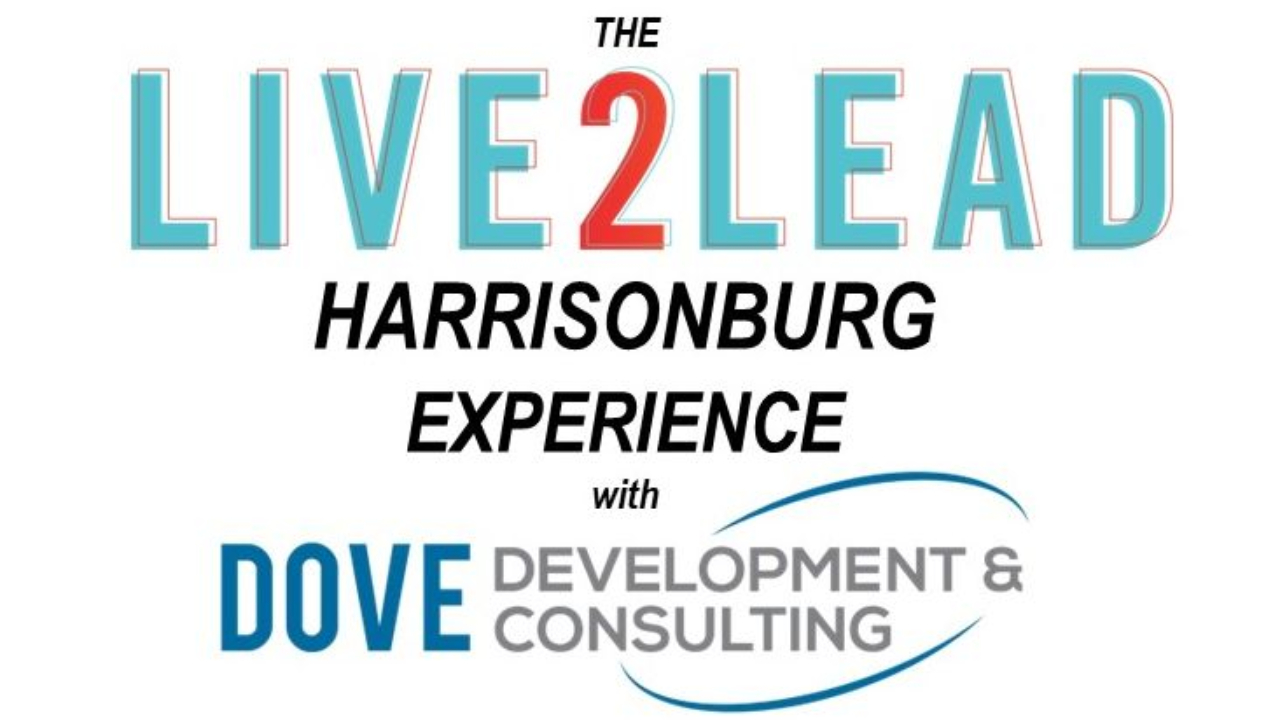 Start planning now to attend the premier leadership and professional development event in the Shenandoah Valley on Friday, November 3, 2023 at Blue Ridge Community College's Plecker Workforce Center. The NINTH Annual LIVE2LEAD:Harrisonburg Experience with Dove Development & Consulting will feature exclusively licensed content from world class leadership expert John C. Maxwell, Ryan Leak, Kendra Scott, and Marcus Buckingham! This leadership development experience is designed to equip attendees with new perspectives & practical tools for you to apply!
This year's EXCLUSIVE Local Leadership Keynote will feature two of our area's most effective voices on leadership, Wes and Cindy Dove with Dove Development & Consulting, who will be providing you with a message on How Top Leaders Set the Tone for Recruitment and Retention that you can apply immediately in your own organization!
Attendees will be sure to enjoy our fun and informative emcee, Virginia Chief of Veterans Services, Virginia Employment Commission, Alex Sellner!!
LIVE2LEAD is designed to equip you with new perspectives, practical tools and key takeaways. You'll breathe new life into your leadership during this information-packed session. By hosting this event, we hope to provide you with the opportunity to learn from world-class leadership experts without leaving town, gain access to the top leaders our area has to offer, and return to your office ready to implement your new action plan and lead with renewed passion and commitment.
Reserve your spot and get more details at the LIVE2LEAD:Harrisonburg Experience with Dove Development & Consulting page.
And don't miss the speaker bios below!
John C. Maxwell is a #1 New York Times bestselling author, coach, and speaker who has sold more than 30 million books in fifty languages. He has been identified as the #1 leader in business by the American Management Association® and the most influential leadership expert in the world by Business Insider and Inc. magazine. He is the founder of The John Maxwell Company, The John Maxwell Team, EQUIP, and the John Maxwell Leadership Foundation, organizations that have trained millions of leaders from every country of the world. A recipient of the Horatio Alger Award, as well as the Mother Teresa Prize for Global Peace and Leadership from the Luminary Leadership Network, Dr. Maxwell speaks each year to Fortune 500 companies, presidents of nations, and many of the world's top business leaders.
Ryan Leak is an author, executive coach, and motivational speaker who gets to inspire over 50,000 people every single month. He trains over 15,000 leaders every year from Fortune 500 companies to professional sports teams. His viral Surprise Wedding story has been featured on Good Morning America, the Today Show, and other various media outlets.
He's the author of the USA Today best-selling book, Chasing Failure: How Falling Short Sets You Up for Success. And his most recent book, Leveling Up: 12 Questions to Elevate Your Personal And Professional Development is a Wall Street Journal Best Seller. He's married to Amanda and is also the assistant coach for his son's basketball team.
Kendra Scott, designer, founder, and philanthropist Kendra Scott started her company in 2002, just three months after her first son was born, with only $500. Going door-to-door to Austin boutiques armed only with a tea box full of her jewelry, Kendra captivated businesses and customers with her vibrant personality and unique eye for design.
Kendra's commitment to innovation, quality and detail has brought her from a small start-up to a billion-dollar business and has won over loyal fans, media and celebrities alike. With over 2,000 employees, Kendra Scott boasts a thriving web business and over 100 standalone stores and has expanded beyond fashion jewelry into the categories of fine jewelry, home décor, and beauty.
Kendra has been awarded with the EY Entrepreneur of the Year 2017 National Award; the Breakthrough Award from the Accessories Council Excellence Awards; awarded Texas Businesswoman of the Year by the Women's Chamber of Commerce; listed by Forbes as one of America's Richest Self-Made Women; Top 100 Entrepreneurs of the Year by Upstart Business Journal; Best CEO by Austin Business Journal; and Honorary Celebrity Chair for the Ronald McDonald House Charities of Central Texas.
Marcus Buckingham is the Founder of the Strengths Revolution. Some accomplishments include: NYT Best-Selling Author and World's Most Prominent Researcher on Strengths, Leadership and High-Performance at Work
Marcus Buckingham is a global researcher and New York Times best-selling author focused on unlocking strengths, increasing performance, and pioneering the future of how people work. He is the author of two of the best-selling business books of all time, First, Break All the Rules, and Now, Discover Your Strengths.